Pair of Galaxies NGC 5426/7 (Arp 271)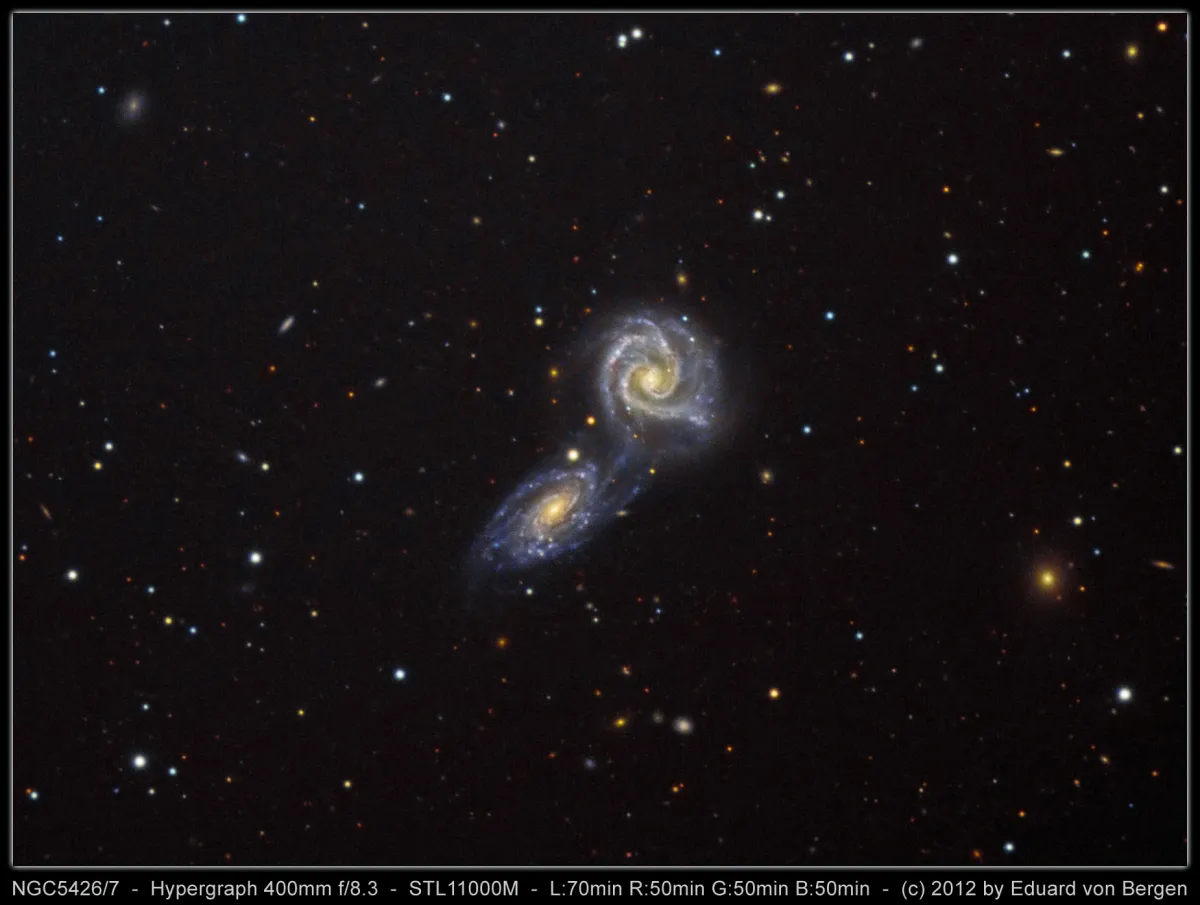 History
As for most of the deep-sky objects also this pair of galaxies was discovered by William Herschel. He has cataloged these «faint nebulae» on 5 March 1785 as II 309 and II 310 and noted: «Two, nearly in the direction of the meridian, distance 4', small stars between, chevelure touching. Northern: pretty bright, considerably large, much brighter in the middle. Southern: faint, small.» [463] His son later cataloged these as h 1734 (GC 3750) and h 1735 (GC 3751). Dreyer added them as NGC 5426 and NGC 5427 in 1888. [313]
In 1966 Halton Arp published his «Atlas of Peculiar Galaxies». He divided the galaxies into groups based on purely morphological criteria. The pair of galaxies here belongs to the group #269-274 (double galaxies with connected arms) and received the designation Arp 271. He noted: «Arms linked. Note bifurcation in arm of N spiral.» [199]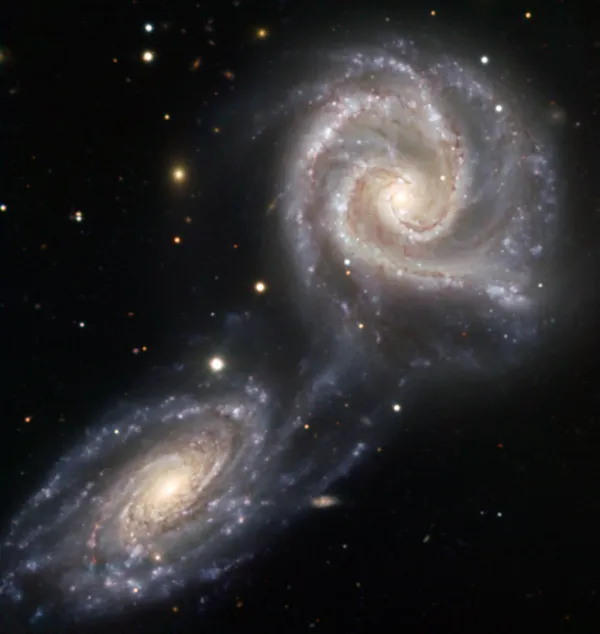 Physical Properties
NGC 5426 and NGC 5427 are two spiral galaxies of similar sizes and spiral structure. They are engaged in a dramatic dance and show tidal distortion. It is not certain that this interaction will end in a collision and ultimately a merging of the two galaxies. This dance will last for tens of millions of years, creating new stars as a result of the mutual gravitational attraction between the galaxies, a pull seen in the bridge of stars already connecting the two. At a distance of 90 million light-years the pair of galaxies is about 130 000 light-years across. [553]
Revised+Historic NGC/IC, Version 22/9, © Dr. Wolfgang Steinicke [277]

| Name | RA | Dec | Type | bMag | vMag | Dim | Dreyer Description | Identification, Remarks |
| --- | --- | --- | --- | --- | --- | --- | --- | --- |
| NGC 5426 | 14 03 24.9 | -06 04 08 | Gx (Sc) | 12.7 | 12.1 | 3 × 1.7 | pF, cL, R, gmbM, sp of 2 | MCG -1-36-4, UGCA 380, VV 21, Arp 271 |
| NGC 5427 | 14 03 26.0 | -06 01 51 | Gx (SBc) | 11.9 | 11.4 | 2.9 × 2.2 | pF, cL, R, nf of 2 | MCG -1-36-3, UGCA 381, VV 21, Arp 271, IRAS 14008-0547 |