Constellation Cassiopeia (Seated Queen)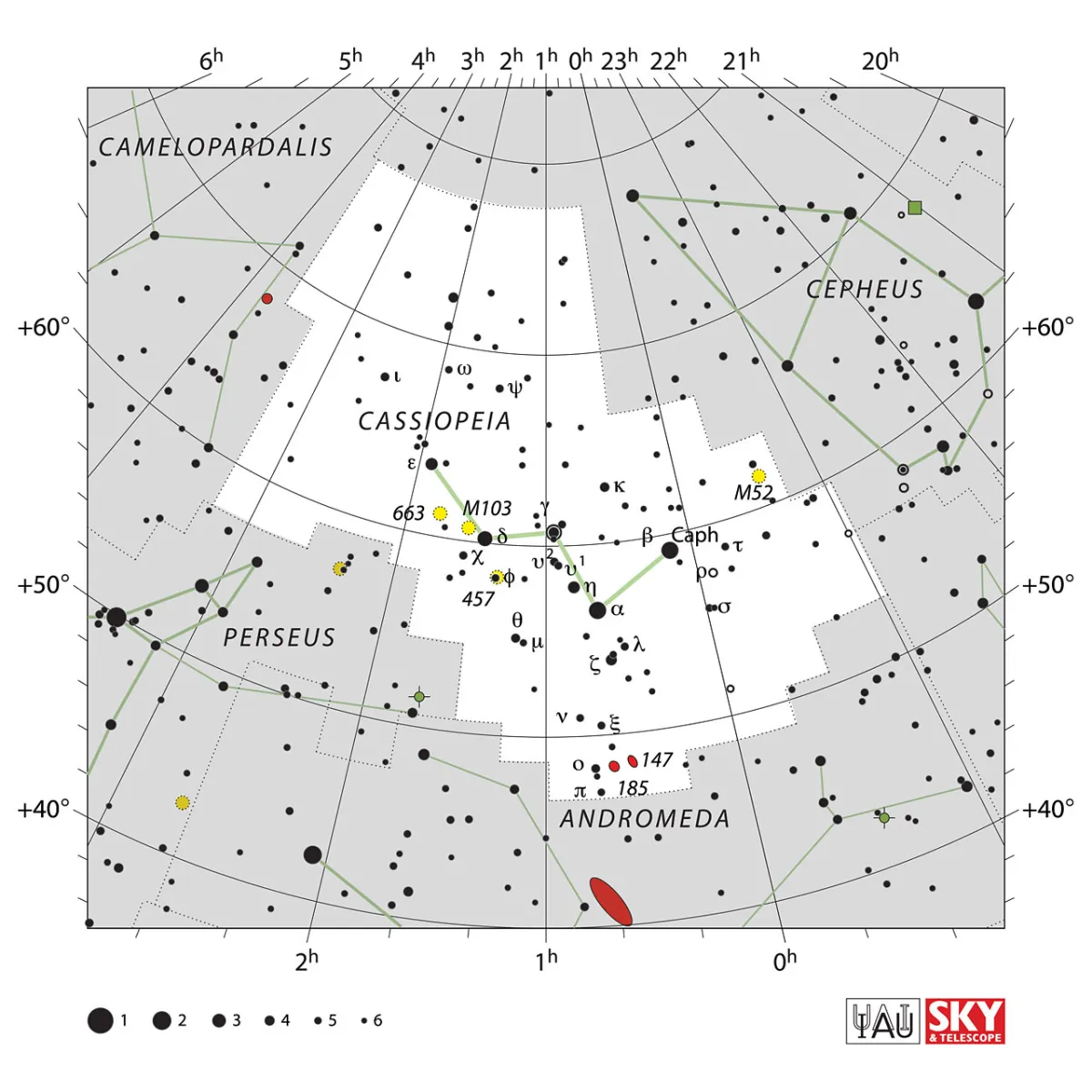 Properties
Cassiopeia belongs to the circumpolar constellations and is very noticeable. The five brightest stars form a spooky 'W' that is open to the north. With her husband Cepheus on the western side, she looks at her son-in-law Perseus and her daughter Andromeda in the south. The constellation is in the band of the Milky Way, roughly opposite its center and thus contains a number of open star clusters. The constellation has an area of 598 square degrees and its center culminates around midnight on October 9th. [9, 15]
Stars with Proper Names:
α Cas: Shedir, Schedar, Schedir
β Cas: Caph, Chaph, Kaff, Al Sanam Al Nakah
δ Cas: Ruchbah, Rucba, Rucha, Ksora
ε Cas: Segin, Ruchbah
η Cas: Achird
θ Cas: Marfak
μ Cas: Marfak
Deep-Sky Object Descriptions
Mythology and History
In Greek mythology, the beautiful but also arrogant Cassiopeia represented the queen of Ethiopia, part of the royal family of heaven. In the sky she appears sitting on a chair. Her husband was King Cepheus and her daughter was Princess Andromeda. Cassiopeia insulted the beautiful daughters of the ancient sea god Nereus. She boasted that she was more beautiful than her. The nymphs complained to Poseidon, god of the seas, who thereupon sent the sea monster Cetus to destroy the Ethiopian coast and demanded Kassiopeia's daughter as a sacrifice. Andromeda was freed by Perseus.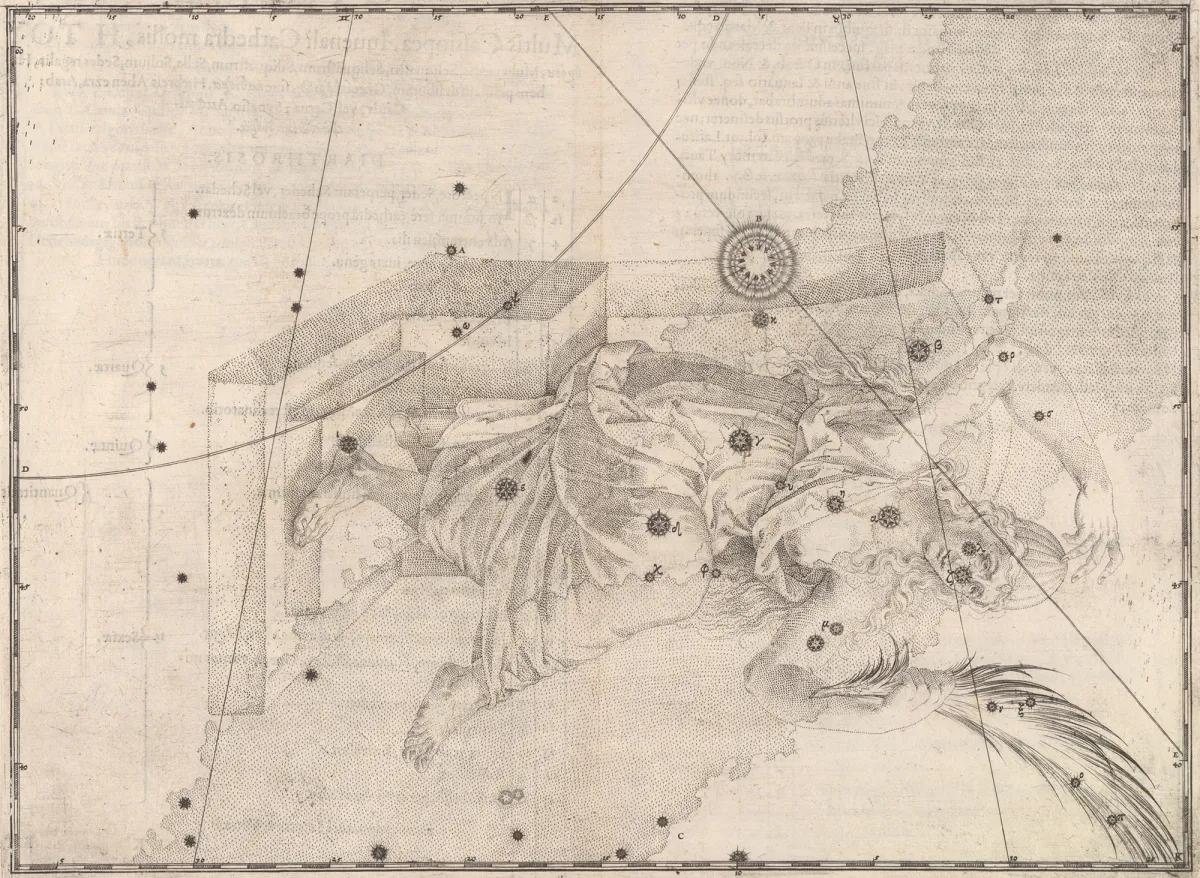 Despite her daughter's rescue, she was reluctant to give Cassiopeia away. When the celebration of the wedding was interrupted by the intrusion of an armed band secretly sent by Cassiopeia and the leader of this group, Agenor, claimed the hand of Andromeda for himself, a battle broke out. Perseus killed a large number of his opponents, but the majority of his enemies were so powerful that he had to get the Gorgon head to put an abrupt end to the ghost. Two hundred of his enemies turned to stone in horror at the sight of Medusa's severed head. As if by magic, the wild noise of the battle faded away with one stroke. In this silence Poseidon had placed Cepheus and Cassiopeia under the stars. Cassiopeia had first been seen tied up in a market basket as a punishment, which in some seasons even stood upside down in the sky and showed her in a most uncomfortable position, where she was also exposed to the cheap ridicule of the common people. Today, on the other hand, you often see her depicted on a throne chair, in keeping with the dignity of her person, but this too is sometimes tilted dangerously in the sky.
Cassiopeia and Cassiepeia, as this constellation is sometimes written, is one of the oldest and most famous. Because of its shape one sometimes speaks of Heaven-W or Heaven-M. The Romans and the Greeks interpreted the constellation as a woman sitting on an armchair, a throne and therefore called Mulier Sedis or simply Sedes. In the 17th century, when the church tried to Christianize the constellation figures, the constellation Cassiopeia became the sinner Mary Magdalene.
The constellation Custos Messium (The Harvester) used to exist between Cassiopeia and the Pole Star. However, this constellation is no longer recognized today. [20, 74]
Catalogs
Yale Bright Star Catalogue, 5th Revised Ed. (Hoffleit+, 1991) [154]

| HR | B | F | DM | HD | SAO | FK5 | IR | M* | ADS | VarID | RA | Dec | vMag | spType | dMag | Sep ["] | Remarks |
| --- | --- | --- | --- | --- | --- | --- | --- | --- | --- | --- | --- | --- | --- | --- | --- | --- | --- |
| HR 5 | | | BD+57 2865 | 123 | 21085 | | | | 61 | V640 Cas | 00 06 16.0 | +58 26 12 | 5.96 | G5V | 0.8 | 1.4 | D:6.43 dG4, 7.19 dG8, 106.83y, a = 1.432". Component B has possible invisible companion, period 6.9y.,DYN:0.051".,VAR:Amp. 0.066V, 1.0819d. |
| HR 7 | | 10 | BD+63 2107 | 144 | 10978 | 2005 | | | | | 00 06 26.5 | +64 11 46 | 5.59 | B9III e | | | S:Also classified B8IV-Ve. |
| HR 21 | β | 11 | BD+58 3 | 432 | 21133 | 2 | I | | 107 | Bet Cas | 00 09 10.7 | +59 08 59 | 2.27 | F2III-IV | 11.3 | 31.3 | C:Color excess E(B-V) = 0.00.,N:Caph; Chaph; Kaff; Al Sanam al Nakah.,SB:Optical companion, 27d.,VAR:Delta Sct, amp. 0.03V, 0.10101d. |
| HR 28 | | | BD+56 11 | 584 | 21162 | | | | | | 00 10 29.7 | +57 09 56 | 6.74 | B7IV | | | |
| HR 60 | | | BD+60 21 | 1239 | 11084 | | | | 222 | | 00 16 57.1 | +61 32 00 | 5.74 | G8III | 6.4 | 19.4 | D:Fixed sep. |
| HR 62 | | | BD+47 50 | 1279 | 36236 | 2016 | | | | | 00 17 09.1 | +47 56 51 | 5.89 | B7III | | | |
| HR 65 | | | BD+50 46 | 1337 | 21273 | | I | | | AO Cas | 00 17 43.0 | +51 25 59 | 6.14 | O9IIInn | | | G:In neutral hydrogen region.,S:Also classified O9IIIn, O9.5III, O8, and O9.5I. There are also indications of two O9III components.,SB:3.5236d, K 223.4k/s, V0 -31.1k/s, msin3i 10.1, asini 10.8. Apsidal period about 70y? vsini of secondary 145k/s.,VAR:EB 5.96 - 6.11B, 6.07 - 6.24V, O9III+O9III, 3.523487d. Spontaneous var. in period. Polarization indicates,VAR:circumstellar envelope possibly related to mass exchange. |
| HR 76 | | | BD+48 79 | 1561 | 36272 | | | | | | 00 20 05.2 | +48 51 55 | 6.52 | A0V s | | | |
| HR 91 | | | BD+51 62 | 1976 | 21366 | | | | 328 | 155 | 00 24 15.6 | +52 01 12 | 5.57 | B5IV | 2.5 | 0.2 | D:ADS 328B, 8.0 at 0.2". However, ADS 328 appeared single in 1953.,G:Cas-Tau OB1.,SB:ADS 328A, 27.8d, K 30k/s, V0 -18k/s, asini 11.2.,VAR:ADS 328A, E?, 5.56 - 5.62V. |
| HR 93 | | 12 | BD+61 69 | 2011 | 11172 | | | | | | 00 24 47.5 | +61 49 52 | 5.40 | B9III | | | |
| HR 96 | | | BD+52 61 | 2054 | 21381 | 2022 | | | | 159 | 00 25 06.4 | +53 02 49 | 5.74 | B9IV | | | VAR:Amp. 0.07V. |
| HR 112 | | | BD+76 10 | 2589 | 4130 | 2031 | | | | | 00 30 55.0 | +77 01 10 | 6.21 | K0IV | | | G:61 Cyg group. |
| HR 113 | | | BD+59 68 | 2626 | 21457 | | | | 412 | | 00 30 19.9 | +59 58 38 | 5.94 | B9IIIn | 2.2 | 0.5 | D:ADS 412AB, CPM.,G:Open cluster, NGC 129 #201. |
| HR 121 | | 13 | BD+65 67 | 2729 | 11243 | | | | | | 00 31 25.3 | +66 31 10 | 6.18 | B6V | | | G:Member of local association (Pleiades group). |
| HR 123 | λ | 14 | BD+53 82 | 2772 | 21489 | | | | 434 | | 00 31 46.4 | +54 31 20 | 4.73 | B8Vn | 0.2 | 0.5 | D:5.5 B7.5V, 5.8 B8.5V, 640y, a = 0.586". Combined mag. and colors. Components 14 and 13 solar masses.,DYN:0.004". |
| HR 124 | | | BD+52 92 | 2774 | 21486 | | I | | | | 00 31 41.2 | +52 50 22 | 5.60 | K2III | | | |
| HR 129 | | | BD+70 24 | 2904 | 4142 | 2034 | | | | | 00 33 19.3 | +70 58 54 | 6.42 | A0Vn | | | |
| HR 130 | κ | 15 | BD+62 102 | 2905 | 11256 | 16 | | | | Kap Cas | 00 33 00.0 | +62 55 54 | 4.16 | B1Ia e | | | G:Cas OB14.,SB:0.14035d, strongly modulated.,VAR:Alpha Cyg, 4.22 - 4.30B, 0.09028d. |
| HR 135 | | | BD+54 101 | 2952 | 21512 | | | | | | 00 33 10.4 | +54 53 42 | 5.93 | K0III | | | |
| HR 137 | | 16 | BD+65 70 | 3038 | 11265 | | | | | | 00 34 24.9 | +66 45 01 | 6.48 | B9III | | | |
| HR 144 | | | BD+53 102 | 3240 | 21551 | | | | | | 00 36 08.3 | +54 10 07 | 5.08 | B7III | | | |
| HR 146 | | | BD+59 84 | 3283 | 11291 | | | | | | 00 36 27.3 | +60 19 34 | 5.79 | A4III | | | G:Cas OB14. |
| HR 153 | ζ | 17 | BD+53 105 | 3360 | 21566 | 17 | | | | 225 | 00 36 58.3 | +53 53 49 | 3.66 | B2IV | | | G:Cas-Tau OB1.,VAR:3.59 - 3.68V. |
| HR 164 | | | BD+48 192 | 3574 | 36550 | | I | | 546 | | 00 39 09.9 | +49 21 16 | 5.43 | K7III | 5.3 | 13.3 | D:Companion optical. |
| HR 168 | α | 18 | BD+55 139 | 3712 | 21609 | 21 | I | | 561 | Alp Cas | 00 40 30.5 | +56 32 14 | 2.23 | K0IIIa | 6.7 | 64.4 | D:D is 8.5v K2IV-V, vsini <54k/s. All components probably optical.,N:SHEDIR; Schedar; Schedir.,VAR:Cst 2.20 - 2.27V. |
| HR 177 | | | BD+65 83 | 3856 | 11336 | 2045 | | | | | 00 42 03.4 | +66 08 51 | 5.83 | G9III-IV | | | |
| HR 179 | ξ | 19 | BD+49 164 | 3901 | 21637 | 2046 | | | | 260 | 00 42 03.9 | +50 30 45 | 4.80 | B2V | | | G:Cas-Tau OB1.,SB:940.2d, K 11.9, V0 -10.6, asini 141.0. |
| HR 181 | | | BD+57 132 | 3924 | 21642 | | | | | | 00 42 31.1 | +58 45 12 | 6.17 | B9.5III | | | |
| HR 184 | π | 20 | BD+46 146 | 4058 | 36602 | | | | | 268 | 00 43 28.1 | +47 01 29 | 4.94 | A5V | | | SB:1.9642d, K 120.5k/s, V0 +12.9k/s, msin3i 1.47, asini 3.25. vsini of companion 63k/s. |
| HR 189 | | | BD+47 181 | 4142 | 36617 | | | | | | 00 44 26.4 | +47 51 51 | 5.67 | B5V | | | M:High velocity star, possible runaway. |
| HR 192 | | 21 | BD+74 27 | 4161 | 4216 | 24 | | | 624 | YZ Cas | 00 45 39.0 | +74 59 17 | 5.66 | A2IV | 5.5 | 36.0 | D:Physical pair.,S:Also classified A2V + F2V.,SB:4.4672d, K 73.0k/s, V0 +8.1k/s, asini 4.48.,VAR:ADS 624A, EA 5.71 - 6.12B, 4.467224d, i 87.95d. Amp. of primary 0.40V, secondary 0.12V. |
| HR 193 | ο | 22 | BD+47 183 | 4180 | 36620 | 25 | | | 622 | Omi Cas | 00 44 43.5 | +48 17 04 | 4.54 | B5IIIe | 7.2 | 33.6 | D:CPM. Companion F8.,G:Cas-Tau OB1. Member of Pleiades group.,S:Shell star. Also classified B2V, B4ne, B8III, B2-5IVe.,SB:1033d. K 19.0, V0 -18.7, asini 268.,VAR:Gamma Cas, 4.50 - 4.62V, amp. 0.3:R, 1.1679d. |
| HR 196 | | | BD+54 143 | 4222 | 21677 | | | | 625 | | 00 45 17.2 | +55 13 18 | 5.42 | A2V s | 5.4 | 89.0 | D:AB CPM.,G:Sirius group? |
| HR 200 | | | BD+68 49 | 4295 | 11380 | | | | | | 00 46 39.0 | +69 19 30 | 6.33 R | F3V | | | |
| HR 204 | | | BD+54 148 | 4321 | 21689 | | | | | | 00 46 15.1 | +55 18 19 | 6.52 | A2III | | | |
| HR 207 | | | BD+58 101 | 4362 | 21693 | | | | | | 00 46 42.4 | +59 34 28 | 6.39 | G0Ib | | | |
| HR 208 | | 23 | BD+74 29 | 4382 | 4226 | | | | | | 00 47 46.1 | +74 50 51 | 5.41 | B8III | | | SB:33.75d, K 16.3k/s, V0 -4.1k/s, asini 6.90. |
| HR 212 | | | BD+71 37 | 4440 | 4229 | | | | | | 00 48 09.1 | +72 40 30 | 5.87 | K0IV | | | |
| HR 219 | η | 24 | BD+57 150 | 4614 | 21732 | | I | | 671 | | 00 49 06.0 | +57 48 57 | 3.44 | F9V+dM0 | 4.0 | 11.6 | D:AB 3.45 G3V, 7.51 K4Ve, 480y, a = 11.994". Combined mag., colors. Component B, vsini =<25k/s. Companions C-H optical.,D:A possible invisible companion with period about 40y. Component B, 7.51V, +1.39(B-V), +1.03(U-B).,DYN:0.177".,N:Achird, according to Becvar; Allen says "unnamed".,RV:Component B, +11k/s.,SB:ADS 671A, 9.209d, K 2.2k/s, V0 +9.2k/s, asini 0.254. More recent observations by Morbey and Griffin (1987) and,SB:by McMillan and Smith (1988) show constant velocity; thus, the SB nature of the system is questioned. |
| HR 223 | ν | 25 | BD+50 147 | 4636 | 21729 | | | | | 302 | 00 48 50.1 | +50 58 06 | 4.89 | B9III | | | |
| HR 233 | | | BD+63 99 | 4775 | 11424 | 29 | | S | | 317 | 00 50 43.6 | +64 14 51 | 5.39 | G0III-IV+B9.5V | | | S:Also classified G0III + A5V.,SB:225.739k/s, K 8.9k/s, V0 +1.76k/s, asini 27.5; vsini of secondary 50k/s.,VAR:5.33 - 5.39V. |
| HR 237 | | | BD+61 178 | 4817 | 11430 | | I | | | 319 | 00 51 16.4 | +61 48 21 | 6.07 | K2Ib-IICN-2 | | | G:Cas OB7.,VAR:6.04 - 6.11V. |
| HR 238 | | | BD+50 161 | 4818 | 21767 | | | | | V526 Cas | 00 50 57.4 | +51 30 29 | 6.39 | F2IV | | | S:Also classified F5III.,VAR:Delta Sct 6.34 - 6.37V, 0.1360d; sinusoidal components 0.0526 and 0.0396d. |
| HR 241 | | | BD+50 164 | 4881 | 21775 | | | | | | 00 51 33.7 | +51 34 16 | 6.21 | B9.5V | | | |
| HR 244 | | | BD+60 124 | 5015 | 11444 | | | | 721 | | 00 53 04.1 | +61 07 27 | 4.82 | F8V | 5.5 | 129.7 | S:Ultraviolet deficiency.,SB:ADS 721A, 127.951d, K 1.6k/s, V0 +22.5k/s, asini 2.35. Orbit questioned by Morbey and Griffin (1987, ApJ,,SB:317, 343); proposed period rejected with certainty. Unresolved by speckle interferometry. |
| HR 250 | | | BD+51 179 | 5128 | 21814 | | I | | 735 | | 00 53 47.6 | +52 41 21 | 6.27 | A5m | 3.4 | 8.2 | D:AB CPM. Component B, dG4. |
| HR 253 | υ1 | 26 | BD+58 134 | 5234 | 21832 | | I | | 748 | | 00 55 00.1 | +58 58 22 | 4.83 | K2III | 7.6 | 94.1 | D:AB optical. |
| HR 256 | | | BD+47 242 | 5273 | 36763 | | I | | | | 00 55 05.2 | +48 40 43 | 6.27 | M2.5IIIa | | | |
| HR 260 | | | BD+57 172 | 5343 | 21846 | | I | | | | 00 56 12.9 | +57 59 48 | 6.21 | K3III | | | |
| HR 261 | | | BD+67 81 | 5357 | 11481 | | | | | | 00 56 55.6 | +68 46 34 | 6.37 | F4III | | | |
| HR 264 | γ | 27 | BD+59 144 | 5394 | 11482 | 32 | I | | 782 | Gam Cas | 00 56 42.5 | +60 43 00 | 2.47 | B0IVe v | 6.3 | 2.3 | C:IR excess.,D:AB CPM.,G:Cas-Tau OB1; exciting star of HII region S185; in reflection nebula; two peculiar elephant trunks of very different,G:colors: IC 59 and IC 63.,M:IRAS observations confirm IR excess and yield simple blackbody temperature of 6750 +/- 100K.,S:First emission-line star discovered, by Angelo Secchi in 1866. IRAS satellite observations confirm IR excess and yield,S:blackbody temperature of about 6750K.,VAR:ADS 782A, Gamma Cas 1.6 - 3.0v. Spectrum and color vary. Expanding circumstellar shell. High-velocity variable,VAR:mass loss. Variable hydrogen emission, 0.7d. Variable SiIV, CIV, polarization. Variable X-ray source. H alpha,VAR:indicates rotating disk-like envelope. |
| HR 265 | υ2 | 28 | BD+58 138 | 5395 | 21855 | | | | | | 00 56 39.8 | +59 10 52 | 4.63 | G8IIIbFe-0.5 | | | G:Wolf 630 group.,S:Possible BaII star. |
| HR 266 | | | BD+59 146 | 5408 | 11484 | | | | 784 | | 00 56 47.1 | +60 21 46 | 5.55 | B9IVn | 0.5 | 0.2 | D:AB 6.0 B8V, 6.6 B9V, 83.4y, a = 0.252". Total mass, 6 solar. Primary is a mercury-manganese star.,SB:ADS 784A, 4.2424d, K 88.2k/s, V0 -3.2k/s, msin3i 1.65, asini 4.57. |
| HR 273 | | | BD+65 115 | 5550 | 11502 | | | | | | 00 58 31.1 | +66 21 08 | 5.97 | A0III | | | |
| HR 278 | | | BD+70 65 | 5715 | 4288 | 2063 | | | | | 01 00 31.0 | +70 58 59 | 6.39 | A4IV | | | G:Hyades group. |
| HR 287 | | | BD+50 202 | 6028 | 21938 | | | | | | 01 02 18.4 | +51 02 06 | 6.47 | A3V | | | |
| HR 292 | | | BD+60 157 | 6130 | 11551 | | | | 868 | | 01 03 37.0 | +61 04 30 | 5.92 | F0II | 3.1 | 1.2 | |
| HR 297 | | | BD+60 158 | 6210 | 11557 | | | | | | 01 04 19.6 | +61 34 49 | 5.84 | F6V | | | |
| HR 298 | | | BD+51 220 | 6211 | 21967 | 2066 | I | | | | 01 04 02.4 | +52 30 08 | 5.99 | K2 | | | |
| HR 302 | | | BD+50 212 | 6300 | 21988 | | | | | | 01 04 46.8 | +51 00 36 | 6.54 | B3V | | | G:Cas-Tau OB1. |
| HR 309 | | | BD+61 206 | 6416 | 11571 | | | | | | 01 06 22.8 | +62 45 42 | 6.54 | A5Vn | | | G:Hyades moving group. |
| HR 316 | | | BD+56 196 | 6497 | 22015 | 2069 | | | | | 01 07 00.2 | +56 56 06 | 6.43 | K2III | | | G:Normal iron content raises questions regarding membership in Arcturus moving group. |
| HR 318 | | | BD+52 262 | 6540 | 22021 | | I | | 915 | | 01 07 09.5 | +53 29 54 | 6.38 R | K2III | 4.0 | 21.7 | D:AB optical. |
| HR 321 | μ | 30 | BD+54 223 | 6582 | 22024 | 1030 | | W | | 405 | 01 08 16.4 | +54 55 13 | 5.17 | G5Vb | 5.8 | 190.5 | D:A* 5.15 G5Vp, 21.43y, a = 0.186", mag. diff 2V, sep. 1.4". Subdwarf with five visual and one astrometric components.,N:Marfak. Name shared with HR 343.,S:Metal deficient star.,SB:8393d, K 2.8k/s, V0 -98.0k/s, asini 310. Masses 0.8 and 0.3? solar. Resolved by speckle interferometry. |
| HR 326 | | | BD+57 200 | 6676 | 22032 | | | | | | 01 08 33.3 | +58 15 49 | 5.79 | B8V | | | |
| HR 336 | | 31 | BD+68 77 | 6829 | 11612 | 2074 | | W | | | 01 10 39.3 | +68 46 43 | 5.29 | A0Vnn | | | D:Suspected visual double is probably single. |
| HR 342 | | | BD+63 149 | 6960 | 11615 | | | | | 424 | 01 11 25.6 | +64 12 10 | 5.55 | B9.5V | | | VAR:E?, 5.35 - 5.59V. |
| HR 343 | θ | 33 | BD+54 236 | 6961 | 22070 | | | W | | 423 | 01 11 06.2 | +55 08 59 | 4.33 | A7V | 5.9 | 145.6 | G:Hyades moving group.,N:Marfak. Name shared with HR 321.,SB:Unresolved by speckle interferometry.,VAR:Delta Sct? |
| HR 345 | | 32 | BD+64 127 | 6972 | 11617 | 2078 | | | | RU Cas | 01 11 41.4 | +65 01 08 | 5.57 | B9IV | | | VAR:Cst? 5.50 - 5.60V. |
| HR 354 | | | BD+60 186 | 7157 | 11637 | | | | 987 | | 01 13 09.9 | +61 42 21 | 6.41 | B9V | 2.8 | 1.2 | |
| HR 365 | | | BD+70 90 | 7389 | 4358 | | | | | | 01 16 12.1 | +71 44 38 | 7.83 | K1V | | | M:Mag. 7.38V and colors from Nicolet. However, HD gives 6.38ptm, 7.38ptg. Abt and Biggs RV Bibliography quotes 6.20V;,M:and AGK3 has 7.7ptg. |
| HR 375 | | | BD+76 40 | 7732 | 4376 | | | | | | 01 20 19.5 | +77 34 14 | 6.31 | G5III | | | |
| HR 381 | | | BD+75 59 | 7925 | 4387 | 2087 | | | | | 01 21 59.1 | +76 14 20 | 6.38 | F0IVn | | | |
| HR 382 | φ | 34 | BD+57 260 | 7927 | 22191 | | I | | 1073 | | 01 20 04.9 | +58 13 54 | 4.98 | F0Ia | 1.9 | 133.8 | D:ADS 1073, quintuple system: A = NGC 457 #136; B, 12.3v at 49"; C = NGC 457 #131 = HD 7902, 6.99V, +0.42(B-V),,D:-0.38(U-B), B5Ia at 134", vsini =<25k/s; D, 10.19V, +0.29(B-V), -0.47(U-B) at 179"; E, 10.63V, +0.28(B-V), -0.52(U-B) at,D:170".,G:In open cluster NGC 457, #136. |
| HR 384 | | 35 | BD+63 176 | 8003 | 11712 | | | | 1088 | 474 | 01 21 05.2 | +64 39 30 | 6.34 | A2Vnn | 2.1 | 55.5 | |
| HR 391 | | | BD+57 274 | 8272 | 22230 | | | | 1105 | | 01 23 21.6 | +58 08 35 | 6.45 | F4V | 0.2 | 0.5 | D:AB 7.1, 7.3v, binary, combined mag. and color. Components C, 12.8v at 46" and D, 10.50v at 249" probably optical. |
| HR 398 | | | BD+70 102 | 8424 | 4401 | | | | | | 01 25 46.5 | +70 58 48 | 6.49 R | A0Vnn | | | |
| HR 399 | ψ | 36 | BD+67 123 | 8491 | 11751 | 46 | I | | 1129 | | 01 25 56.0 | +68 07 48 | 4.74 | K0III | 5.2 | 23.2 | D:ADS 1129B, 13.5v, 3" CPM with A. Component C optical, 9.18V, +0.66 (B-V), +0.34(U-B), Am. |
| HR 403 | δ | 37 | BD+59 248 | 8538 | 22268 | 48 | I | W | | Del Cas | 01 25 49.0 | +60 14 07 | 2.68 | A5III-IV v | 8.7 | 131.7 | C:Color excess E(B-V) = +0.27.,D:Unresolved by speckle interferometry 1981.69.,G:Hyades group.,N:Ruchbah; Rucba; Rucha; also Ksora in Becvar.,S:Also classified A5V.,VAR:EA? 2.68 - 2.76V, 759d. |
| HR 427 | | 38 | BD+69 102 | 9021 | 4422 | 1042 | | | | | 01 31 13.8 | +70 15 53 | 5.81 | F6V | | | SB:134.078d, K 19.9k/s, V0 +1.1k/s, asini 34.9. Unresolved by speckle interferometry. |
| HR 428 | | | BD+65 175 | 9030 | 11788 | | | | | | 01 30 52.3 | +66 05 53 | 6.14 | A2V s | | | G:Hyades group. |
| HR 439 | | | BD+57 320 | 9352 | 22389 | | I | S | | | 01 33 25.8 | +58 19 39 | 5.70 | K0Ib+B9V | | | D:Unresolved by speckle interferometry 1983.94.,S:Also classified K3Ib-II + B9V. vsini of secondary 200k/s. |
| HR 442 | χ | 39 | BD+58 260 | 9408 | 22397 | | I | | | | 01 33 55.9 | +59 13 55 | 4.71 | G9IIIb | | | |
| HR 449 | | | BD+73 81 | 9612 | 4448 | | | | | | 01 37 22.5 | +74 18 03 | 6.58 | B9Ve | | | |
| HR 456 | | 40 | BD+72 86 | 9774 | 4453 | 51 | | | 1268 | 567 | 01 38 30.9 | +73 02 24 | 5.28 | G8III | 6.4 | 53.3 | |
| HR 461 | | | BD+57 349 | 9900 | 22456 | 2108 | I | | | | 01 38 07.6 | +57 58 39 | 5.56 | G5II | | | G:UMa stream.,S:Also classified K1Ia and K0IICN+2. |
| HR 478 | | 43 | BD+67 149 | 10221 | 11919 | 55 | | | | V557 Cas | 01 42 20.5 | +68 02 35 | 5.59 | A0pSiSr | | | VAR:Alpha CV, 5.55 - 5.64V, 3.1848d. |
| HR 480 | | 42 | BD+69 114 | 10250 | 4470 | | | | | 590 | 01 42 55.9 | +70 37 21 | 5.18 | B9V | | | VAR:EA, amp. 0.3V, 16.77d. |
| HR 481 | | | BD+60 308 | 10260 | 11920 | | | | | | 01 42 03.0 | +61 02 18 | 6.71 | B8IIIpSi | | | S:Manganese star. |
| HR 482 | | | BD+57 370 | 10293 | 22520 | | | | 1334 | | 01 42 17.8 | +58 37 40 | 6.37 | B8III | 2.4 | 20.1 | D:Third component mag. diff 4.74v, 110" from A. Component B is K2V, optical.,S:Also classified B7V. |
| HR 488 | | | BD+60 312 | 10362 | 11931 | | | | | | 01 42 58.4 | +61 25 18 | 6.34 | B7II | | | G:Foreground star, Cas OB8. |
| HR 491 | | 44 | BD+59 307 | 10425 | 11941 | | | | 1344 | | 01 43 19.7 | +60 33 04 | 5.78 | B8IIIn | 5.1 | 66.0 | SB:ADS 1344A. |
| HR 499 | | | BD+56 330 | 10543 | 22566 | | | | 1359 | | 01 44 17.9 | +57 32 11 | 6.21 | A3V | 1.4 | 1.2 | D:6.4 A2, 7.8 F0, 573.52y, a = 1.07".,DYN:0.016". |
| HR 502 | | | BD+56 334 | 10587 | 22578 | | | | | | 01 44 46.1 | +57 05 21 | 6.25 | A2V | | | |
| HR 511 | | | BD+63 238 | 10780 | 11983 | | | W | | | 01 47 44.8 | +63 51 08 | 5.63 | K0V | 3.1 | 91.1 | D:Component A, astrometric binary unresolved by speckle interferometry.,S:Iron-rich star. |
| HR 542 | ε | 45 | BD+62 320 | 11415 | 12031 | 63 | | | | 652 | 01 54 23.7 | +63 40 12 | 3.38 | B3III | | | G:Cas-Tau OB1; member of Pleiades group.,N:Called Segin in Becvar; Allen gives Ruchbah, a name more commonly applied to HR 403.,S:Helium weak. Shell star. Usually classified B3Vp. |
| HR 548 | ω | 46 | BD+67 169 | 11529 | 12038 | 2129 | | | | 659 | 01 56 00.0 | +68 41 07 | 4.99 | B8III | | | G:Pleiades group.,SB:69.92d, K 29.6k/s, V0 -24.8k/s, asini 27.1. |
| HR 561 | | | BD+60 398 | 11857 | 12065 | | | | | 678 | 01 58 33.3 | +61 41 53 | 6.02 | B5III | | | VAR:6.00 - 6.30V. |
| HR 567 | | | BD+63 265 | 11946 | 12076 | | | | 1571 | | 01 59 38.0 | +64 37 17 | 5.26 | A0Vn | 5.6 | 41.5 | D:Optical. |
| HR 575 | | 48 | BD+70 153 | 12111 | 4554 | | | | 1598 | 694 | 02 01 57.4 | +70 54 25 | 4.54 | A3IV | 1.7 | 0.5 | D:AB 4.71 A4V, 6.41 F2V, 60.44y, a = 0.653". Perturbation periods of 26 or 39y suspected. C, 13.6v, 24" CPM; D, 13.0v 48",D:optical. Additional unseen companion suspected.,DYN:0.027".,G:Sirius group?,N:Also called A Cas.,SB:ADS 1598A, 20,146.1d, K 4.0k/s, V0 -8.5k/s, asini 776.,VAR:ADS 1598B. B-A varies 1.5 - 3.0v. |
| HR 579 | | | BD+73 108 | 12173 | 4559 | | | | 1606 | | 02 03 10.5 | +73 51 02 | 6.23 R | A5III | 3.1 | 5.5 | |
| HR 580 | | 50 | BD+71 117 | 12216 | 4560 | 70 | | | | | 02 03 26.1 | +72 25 17 | 3.98 | A2V | | | |
| HR 581 | | 47 | BD+76 63 | 12230 | 4562 | 2139 | | W | | | 02 05 07.4 | +77 16 53 | 5.38 | F0Vn | 6.0 | 95.6 | |
| HR 586 | | 52 | BD+64 282 | 12279 | 12095 | | | | | | 02 02 52.7 | +64 54 05 | 6.00 | A1Vn | | | |
| HR 589 | | 53 | BD+63 274 | 12301 | 12097 | | | | | | 02 03 00.3 | +64 23 24 | 5.58 | B8Ib | | | |
| HR 592 | | 49 | BD+75 86 | 12339 | 4565 | | | | 1625 | | 02 05 31.2 | +76 06 54 | 5.22 | G8III | 7.0 | 5.4 | D:ADS 1625AB, CPM. |
| HR 598 | | | BD+64 285 | 12468 | 12105 | | | | | | 02 04 40.1 | +65 06 12 | 6.52 | A0V | | | |
| HR 626 | | | BD+73 121 | 13222 | 4599 | 2149 | | | | | 02 13 21.2 | +74 01 40 | 6.29 | G8III | | | |
| HR 640 | | 55 | BD+65 239 | 13474 | 12180 | 76 | | S | | 753 | 02 14 29.1 | +66 31 28 | 6.07 | G0II-III+B9V | | | D:Resolved by speckle interferometry 1983.93, sep. 0.07".,S:vsini of G0 component, 70k/s; of B9 component 85k/s. |
| HR 668 | | | BD+63 320 | 14171 | 12226 | | | | | | 02 20 12.9 | +64 20 14 | 6.60 | B9.5V | | | |
| HR 707 | ι | | BD+66 213 | 15089 | 12298 | | | | 1860 | Iot Cas | 02 29 04.0 | +67 24 09 | 4.52 | A5pSr v | 2.2 | 2.3 | D:AB 4.64 A3Vp, 6.89 F5, 840y, a = 2.27". A* 4.64 A5p, 52.4y, a = 0.113". Unresolved by speckle interferometry.,D:ABxC 4.51 A5p, 8.40 G7V, probably physical, 6.706" periastron for parabolic orbit. vsini of C =<50k/s.,DYN:0.012".,R:Diam. relative to Sun = 2.9.,S:Also classified B9pCrSr; strong SrII, CrII.,VAR:ADS 1860A, Alpha CV, 4.45 - 4.53V, 1.74050d. Also magnetic and Sp. period. |
| HR 743 | | | BD+72 140 | 15920 | 4694 | 87 | | | | | 02 38 02.0 | +72 49 06 | 5.16 | G8III | | | |
| HR 747 | | | BD+65 280 | 16024 | 12361 | 2178 | I | | | | 02 37 36.1 | +65 44 44 | 5.78 | K5III | | | |
| HR 791 | | | BD+67 224 | 16769 | 12421 | 92 | | | | | 02 44 49.7 | +67 49 29 | 5.95 | A5III | | | SB:2.5364d, K 55.1k/s, V0 +4.3k/s, asini 1.92. |
| HR 815 | | | BD+69 179 | 17138 | 12445 | | | | | RZ Cas | 02 48 55.5 | +69 38 03 | 6.18 | A3V | | | G:In reflection nebulosity.,SB:1.1953d, K 68k/s, V0 -40k/s, asini 1.12. Masses 1.8 and 0.6 solar.,VAR:EA 6.18 - 7.72V, 1.1952473d. Period varies irregularly. i 82.14d. May have two dark companions with orbital periods 23,VAR:and 105y. |
| HR 829 | | | BD+68 200 | 17463 | 12472 | 2195 | | | | SU Cas | 02 51 58.7 | +68 53 19 | 5.80 | F5:Ib-II | | | G:In reflection nebulosity.,VAR:CDelta 5.78 - 6.16V, 1.949319d, possibly changing. RV varies in same period. |
| HR 839 | | | BD+57 651 | 17581 | 23662 | | | W | | | 02 51 45.5 | +58 18 53 | 6.45 | A1m | 2.8 | 192.7 | SB:8.2504d, K 12.9k/s, V0 -5.8k/s, asini 1.42. |
| HR 860 | | | BD+60 591 | 17948 | 12517 | 2201 | | W | | | 02 55 56.9 | +61 31 16 | 5.59 | F4V | 5.5 | 89.6 | |
| HR 861 | | | BD+63 369 | 17958 | 12519 | | I | W | | 985 | 02 56 24.8 | +64 19 57 | 6.24 | K3Ib v | 3.4 | 115.6 | G:Cam OB1. |
| HR 922 | | | BD+63 390 | 19065 | 12608 | 2219 | | | | | 03 07 19.0 | +64 03 28 | 5.89 | B9V | | | |
| HR 932 | | | BD+73 168 | 19275 | 4840 | 2222 | | | | | 03 11 56.3 | +74 23 37 | 4.87 | A2Vnn | | | |
| HR 1032 | | | BD+71 201 | 21179 | 4917 | | I | | | | 03 30 19.5 | +71 51 50 | 6.32 | M2III | | | |
| HR 1055 | | | BD+72 178 | 21610 | 4936 | 2251 | | | | | 03 35 12.4 | +73 20 49 | 6.57 | A0Vn | | | |
| HR 1080 | | | BD+75 143 | 21970 | 4953 | | | | | | 03 39 24.8 | +75 44 23 | 6.27 | G9III-IV | | | |
| HR 8752 | | | BD+56 2923 | 217476 | 35039 | 3839 | I | | | V509 Cas | 23 00 05.1 | +56 56 43 | 5.00 | G40 v | | | G:Cep OB1.,M:Radio source. One of the most luminous stars in the galaxy. Circumstellar gas shell. Circumstellar features observed in,M:infrared.,S:Formerly classified G0Ia, but is intrinsically considerably brighter. Also classified F8e-KIa + BIV. According to,S:Morgan and Keenan (1973, ARA&A, 11, 29) spectrum has varied slowly from G0 0 to G5 0 over the last 20 years.,VAR:SRd 4.75 - 5.50V. Spectrum variable. Variable NII emission. Probable nonradial pulsations coupled with mass loss.,VAR:Phase between V and B-V curves changed between 1980 and 1985, from half phase out of cycle to in phase. Cycles on,VAR:time scale of about a year. Bimodal radial pulsation inferred (Sheffer and Lambert 1987, PASP, 99, 1277) from analysis,VAR:of a decade of spectroscopic observations. As opposed to remarks on spectral type, the star appears to be getting,VAR:bluer (IBVS 3170), implying an increase in temperature of 800 K over the past decade. |
| HR 8761 | | | BD+56 2927 | 217673 | 35062 | | I | | | | 23 01 30.7 | +57 06 20 | 6.20 | K1.5II | | | |
| HR 8770 | | | BD+54 2900 | 217833 | 35092 | | | | 16474 | V638 Cas | 23 02 43.8 | +55 14 11 | 6.50 | B9IIIHe wk v | 3.6 | 19.5 | SB:Optical.,VAR:Alpha CV, amp. 0.10u, 5.36d. Spectrum variable. |
| HR 8778 | | | BD+57 2676 | 217944 | 35103 | | | | | | 23 03 21.6 | +58 33 53 | 6.43 | G8IV | | | |
| HR 8797 | | 1 | BD+58 2545 | 218376 | 35147 | | | | | | 23 06 36.9 | +59 25 11 | 4.85 | B0.5IV | | | G:Cep OB3. |
| HR 8803 | | | BD+58 2546 | 218440 | 35152 | | | | | | 23 07 10.4 | +59 43 39 | 6.40 | B2V | | | SB:7.2511d, K 87.9k/s, V0 -4.6k/s, msin3i 4.81, asini 8.11. |
| HR 8822 | | 2 | BD+58 2552 | 218753 | 35186 | | | | 16556 | Var? | 23 09 44.1 | +59 19 59 | 5.70 | A5III | 4.3 | 167.2 | D:C, 8.14V, +0.15(B-V), -0.38(U-B), A, HD 218780.,VAR:ADS 16556A. |
| HR 8832 | | | BD+56 2966 | 219134 | 35236 | 875 | | W | | 14458 | 23 13 17.0 | +57 10 06 | 5.56 | K3V | 3.8 | 106.6 | D:Astrometric binary unresolved by speckle interferometry.,VAR:Amp. 0.02B. |
| HR 8853 | | | BD+52 3410 | 219623 | 35285 | 3863 | | W | | | 23 16 42.3 | +53 12 49 | 5.54 | F7V | 7.3 | 129.3 | |
| HR 8854 | | | BD+61 2413 | 219634 | 20531 | | | | | V649 Cas | 23 16 26.8 | +61 57 47 | 6.53 | B0Vn | | | SB:Circular orbit, 2.3912d.,VAR:E, amp. 0.08V, 0.09B. Close to X-ray source 4U2316+61. |
| HR 8881 | | | BD+61 2427 | 220074 | 20567 | | I | | | | 23 20 14.3 | +61 58 12 | 6.45 R | K1V | | | G:NGC 7654 #288 (M52). |
| HR 8886 | | | BD+61 2428 | 220130 | 20572 | | I | | 16690 | | 23 20 34.6 | +62 12 47 | 6.39 | K2III | 5.5 | 12.7 | G:NGC 7654 #265 (M52).,S:Also classified K3Ib and G8I. |
| HR 8894 | | | BD+59 2710 | 220369 | 35361 | 3874 | I | | | | 23 22 32.5 | +60 08 01 | 5.56 | K3II | | | |
| HR 8904 | | 4 | BD+61 2444 | 220652 | 20614 | 882 | I | W | | 14549 | 23 24 50.3 | +62 16 58 | 4.98 | M1III | 2.5 | 98.6 | G:NGC 7654 #923 (M52); Wolf 630 group. |
| HR 8926 | | | BD+57 2748 | 221253 | 35478 | | | | 16795 | AR Cas | 23 30 02.0 | +58 32 56 | 4.91 | B3IV | 2.3 | 75.7 | D:AB, 4.9, 9.3V, 1500y, sep. 1.1". CD, 8.2 A0Vn, 9.8v, sep. 1.6"; vsini of C, 210k/s. Component E, optical.,DYN:0.003" for components CD.,G:Cas-Tau OB1.,SB:ADS 16795A, 6.0663d, K 56.7k/s, V0 -13.4k/s, asini 4.58. Alternate orbits 6.0663309d, K 54.18k/s, V0 -10.10k/s,,SB:asini 4.44; 6.0668d, K 56.2k/s, V0 -11.0k/s, asini 4.6027. Apsidal period 1500 1800y.,VAR:ADS 16795A, EA 4.84 - 4.98V, 6.0663309d; i 90d. |
| HR 8981 | | | BD+48 4127 | 222570 | 53276 | | | | | | 23 41 26.9 | +49 30 44 | 6.26 | A4V | | | |
| HR 8985 | | | BD+56 3067 | 222618 | 35682 | | | | | | 23 41 54.5 | +57 15 36 | 6.24 R | G8III | | | |
| HR 8989 | | | BD+63 2038 | 222670 | 20791 | | I | | 16940 | | 23 42 20.8 | +64 30 56 | 6.56 | M2III | 4.4 | 2.6 | |
| HR 8990 | | | BD+60 2609 | 222682 | 20793 | 3900 | | W | | | 23 42 31.5 | +61 40 46 | 6.40 | K2III | 6.5 | 8. | |
| HR 9000 | | | BD+55 3010 | 222932 | 35728 | | | | | | 23 44 48.3 | +55 47 59 | 6.51 R | gG4 | | | |
| HR 9008 | τ | 5 | BD+57 2804 | 223165 | 35763 | 3909 | I | | | 14707 | 23 47 03.5 | +58 39 07 | 4.87 | K1IIIa | | | |
| HR 9010 | | | BD+56 3085 | 223173 | 35761 | | I | | | | 23 47 01.9 | +57 27 05 | 5.51 | K3IIb | | | |
| HR 9017 | | | BD+64 1861 | 223358 | 20866 | | | | 17020 | V650 Cas | 23 48 39.0 | +64 52 35 | 6.41 | A0pSrSi:Cr: | 2.0 | 0.7 | D:AB 6.8 A0, 7.4v, 565.77y, a = 0.74". C, 8.6v at 50" optical.,DYN:0.006".,VAR:0.9135 or 1.092d. Amp. 0.03u. |
| HR 9018 | | 6 | BD+61 2533 | 223385 | 20869 | | | | 17022 | V566 Cas | 23 48 50.2 | +62 12 52 | 5.43 | A3Ia e | 5.1 | 1.5 | D:AB binary. B is cA0.,G:Cas OB5.,RV:Period about 30d?,S:Shell star. Also classified A3eqIa-0.,VAR:Alpha Cyg 5.34 - 5.45V, =>46d. |
| HR 9019 | | | BD+59 2777 | 223386 | 35794 | | | | | | 23 48 53.9 | +59 58 44 | 6.34 | A0V | | | |
| HR 9020 | | | BD+58 2653 | 223421 | 35798 | | | | | | 23 49 12.0 | +58 57 47 | 6.33 | F2IV | | | |
| HR 9028 | | | BD+50 4165 | 223552 | 35823 | | | | 17032 | | 23 50 22.3 | +51 37 18 | 6.44 | F3V | 6.1 | 21.0 | |
| HR 9045 | ρ | 7 | BD+56 3111 | 224014 | 35879 | 899 | I | | | Rho Cas | 23 54 23.0 | +57 29 58 | 4.54 | G20e v | | | D:Possibly wide CPM pair with HR 9052.,G:Cas OB5, within 51' of center of cluster NGC 7789, nonmember.,RV:Envelope has expansion velocity about 40k/s.,S:Also classified F8Ia-K0pIa-0.,VAR:SRd 4.1 - 6.2v, periods about 110 and 1100d (1946 minimum lasted 320d). Rapid spectral variation from cF5 to M5p.,VAR:Photoelectric observations since June 1986 indicate an amp. of only about 0.8V and 0.3(B-V). |
| HR 9052 | | | BD+56 3115 | 224151 | 35899 | | | | | V373 Cas | 23 55 33.7 | +57 24 44 | 6.00 | B0.5II+B0.5II v | | | D:Wide pair with HR 9045.,G:Cas OB9.,SB:13.4187d, K 117.5k/s, V0 -24.3k/s, msin3i 13.5, asini 21.6.,VAR:E:/GS 5.9 - 6.3v, 13.4192d. Intrinsic variable which may be eclipsing. |
| HR 9059 | | | BD+54 3076 | 224355 | 35917 | | | | | 14773 | 23 57 08.5 | +55 42 21 | 5.55 | F1/6V+F3 | | | S:Frequently quoted G8Ib is probably erroneous.,SB:12.156153d, K 71.8k/s, V0 +10.3k/s, msin3i 1.637, asini 11.394.,VAR:E?, amp. 0.05V. |
| HR 9063 | | | BD+59 2795 | 224404 | 35922 | | | | | | 23 57 33.5 | +60 01 25 | 6.47 | B9III-IV | | | |
| HR 9066 | | | BD+50 4202 | 224490 | 35938 | | I | | 17135 | R Cas | 23 58 24.8 | +51 23 19 | 4.80 | M7IIIe v | 5.4 | 29.5 | D:Companions optical.,P:Polarization possibly due to circumstellar dust scattering.,S:OH and H2O emission strong in infrared. IR spectra show water vapor. Variable M6e-M10e.,VAR:ADS 17135A, M 4.7 - 13.5v, 430.46d. Variable SiO maser source, indicating shell-like structure. Single cycle 6.45 to,VAR:11.25V, +1.31 to +2.66(B-V), -0.07 to +1.02(U-B). |
| HR 9071 | σ | 8 | BD+54 3082 | 224572 | 35947 | | | | 17140 | | 23 59 00.5 | +55 45 18 | 4.88 | B1V | 2.2 | 2.8 | D:AB binary, 5.0v B2III, 7.1v B3V.,G:Probable foreground star of a sparse group with HR 9045, 9052 and several fainter stars.,S:Combined spectrum.,SB:ADS 17140B. |
| HR 9079 | | | BD+58 2685 | 224784 | 35983 | 3928 | | | | | 00 00 30.9 | +59 33 35 | 6.19 | G9III-IV | | | G:Gamma Leo group? |
| HR 9083 | | | BD+49 4309 | 224870 | 53573 | 3929 | | | | | 00 01 19.3 | +49 58 54 | 6.22 | G7II-III | | | |
| HR 9085 | | | BD+60 2657 | 224893 | 21009 | | | | | | 00 01 36.9 | +61 13 23 | 5.55 | F0III | | | |
| HR 9094 | | | BD+65 1987 | 225009 | 10937 | | | | 1 A | | 00 02 36.1 | +66 05 56 | 5.86 | G8III | 1.5 | 15.2 | D:ADS 1B, 7.47V, +0.08(B-V), +0.05(U-B), A2Vn, vsini 275k/s, may be shell star. AB binary. C, 10.8m at 99" optical. |
| HR 9097 | | | BD+62 2356 | 225094 | 10942 | | | | | V639 Cas | 00 03 25.7 | +63 38 31 | 6.24 | B3Ia e | | | G:Cas OB5.,VAR:I? Amp. 0.1B. |
| HR 9100 | | 9 | BD+61 2586 | 225180 | 10954 | | | W | | | 00 04 13.6 | +62 17 16 | 5.88 | A1III | 4.0 | 246.0 | |
| HR 9110 | | | BD+60 2667 | 225289 | 10962 | | | | | V567 Cas | 00 05 06.2 | +61 18 51 | 5.80 | B8IVpHgMn | | | VAR:Amp. 0.02:V, 6.4322d. |
Revised+Historic NGC/IC, Version 22/9, © Dr. Wolfgang Steinicke [277]
Planetary Nebulae
Name
RA
Dec
Type
bMag
vMag
Dim
Dreyer Description
Identification, Remarks
IC 289
03 10 19.2
+61 19 03
PN
12.3
13.2
0.8
pB, pL, R, bet 2 vF st
PK 138+2.1, CS=16.8
IC 1747
01 57 35.8
+63 19 22
PN
13.6
12.0
0.32
Planetary, stell
PK 130+1.1, CS=15.8
Galactic Nebulae
Name
RA
Dec
Type
bMag
vMag
Dim
Dreyer Description
Identification, Remarks
NGC 281
00 52 53.8
+56 37 30
EN
35 × 30
F, vL, dif, S triple * on np edge
IC 11, LBN 616, in OCL 313
NGC 896
02 25 27.8
+62 01 10
EN
10 × 10
eF, pL, iF
IC 1795, LBN 645, CED 6, SG 1.04, Min 2-57, narrrow dark lane n-s, SNR ?
NGC 7635
23 20 45.0
+61 12 42
EN
11.0
15 × 8
vF, * 8 inv l excentric
LBN 549, in Sh2-162, Bubble nebula
IC 59
00 57 28.5
+61 08 37
EN
10 × 5
pF, eL ! (nf γ Cassiop)
LBN 620, Gamma Cas nebula
IC 63
00 59 29.0
+60 54 40
EN
10 × 3
pF, eL ! conn with np one
LBN 623, CED 4B, Gamma Cas nebula
IC 1831
02 44 00.0
+63 00 36
EN
120
vF, eeL
CED 8
IC 1871
02 57 21.7
+60 40 20
EN
* 9.3 nebs, chiefly f
LBN 675
Open Clusters
Name
RA
Dec
Type
bMag
vMag
Dim
Dreyer Description
Identification, Remarks
NGC 103
00 25 17.3
+61 19 19
II2p
9.8
5
Cl, pS, pC, st 11…18
OCL 291
NGC 110
00 27 25.4
+71 23 26
IV1p
19
Cl, pR, lC, st 9…12
OCL 300
NGC 129
00 29 58.0
+60 12 42
IV2p
6.5
12
Cl, vL, pR, lC, st 9…13
OCL 294
NGC 133
00 31 18.0
+63 21 06
IV1p
9.4
3
Cl, pL, st 10…, D * inv
OCL 296
NGC 136
00 31 30.7
+61 30 33
II2p
11.5
11.5
1.5
globular, vF, S, eC
OCL 295
NGC 146
00 33 03.0
+63 18 06
IV3p
9.1
5
Cl, pL, lC, st 11-12, D *
OCL 299
NGC 189
00 39 35.6
+61 05 42
III2p
8.8
5
Cl, pL, R, st 11…15
OCL 301
NGC 225
00 43 36.0
+61 46 00
III1p
7.0
15
Cl, L, lC, st 9…10
OCL 305
NGC 366
01 06 25.9
+62 13 44
II3p
4
Cl, S
OCL 316
NGC 381
01 08 20.0
+61 35 00
III2p
9.3
7
Cl, pC
OCL 317
NGC 433
01 15 09.2
+60 07 33
III2p
4
Cl, S, lC
OCL 319
NGC 436
01 15 58.0
+58 48 42
I3m
8.8
5
Cl, S, iF, pC
OCL 320
NGC 457
01 19 33.0
+58 17 42
I3r
6.4
20
Cl, B, L, pRi, st 7, 8, 10
OCL 321
NGC 559
01 29 31.0
+63 18 06
II2m
9.5
7
Cl, B, pL, pRi
OCL 322
NGC 581
01 33 23.0
+60 39 30
III2p
7.4
6
Cl, pL, B, R, Ri, st 10…11
M 103, OCL 326
NGC 609
01 36 23.7
+64 32 12
II3r
11.0
3
Cl, S, pRi, st 14 ..
OCL 325
NGC 637
01 43 03.0
+64 02 12
I3p
8.2
3
Cl, pS, B & vF st
OCL 329
NGC 654
01 43 59.4
+61 52 58
II3m
6.5
6
Cl, iF, Ri, one * 6·7, st 11…14
OCL 330
NGC 657
01 43 29.8
+55 52 30
OCL
7
Cl, pRi, st 12
OCL 337, *Grp ?
NGC 659
01 44 24.0
+60 40 12
III1p
7.9
6
Cl, lRi, st B
OCL 332
NGC 663
01 46 17.0
+61 13 06
III2m
7.1
15
Cl, B, L, eRi, st pL
OCL 333
NGC 743
01 58 37.0
+60 10 00
II1p
7
Cl, not Ri, D * (h 1098)
OCL 343
NGC 886
02 23 28.1
+63 46 16
OCL
14
Cl, L, lC, sc, st 9…13
*Grp ?
NGC 1027
02 42 36.0
+61 35 42
III2p
6.7
15
Cl, L, sc st, one 10 m
IC 1824, OCL 357
NGC 7654
23 24 48.0
+61 36 00
I2r
6.9
16
Cl, L, Ri, mCM, R, st 9…13
M 52, OCL 260
NGC 7788
23 56 46.0
+61 24 00
I2p
9.4
4
Cl, S, pRi, vC, st 10, 13…
OCL 275
NGC 7789
23 57 28.6
+56 42 52
II2r
6.7
25
Cl, vL, vRi, vmC, st 11…18
OCL 269
NGC 7790
23 58 24.2
+61 12 30
III2p
8.5
5
Cl, pRi, pC
OCL 276
IC 166
01 52 22.0
+61 51 12
III1r
11.7
8
S Cl, nebulous ?
OCL 334
IC 1590
00 52 48.0
+56 37 54
OCL+EN
Cl, vL, st sc, 281 f
in N 281
IC 1805
02 32 48.0
+61 27 42
III3pn
6.5
20
Cl, co, eL neby extends f
OCL 352, Mel 15, LBN 654
IC 1848
02 51 18.0
+60 24 30
IV3pn
6.5
18
Cl, st F, extends 8m f, in F neby
OCL 364, LBN 667
Galaxies
Name
RA
Dec
Type
bMag
vMag
Dim
Dreyer Description
Identification, Remarks
NGC 147
00 33 11.7
+48 30 26
E5/P
10.5
9.5
13.2 × 7.8
vF, vL, iR, gsmbM * 11
UGC 326, MCG 8-2-5, DDO 3, CGCG 550-6
NGC 185
00 38 57.6
+48 20 14
E3
10.1
9.2
8 × 7
pB, vL, iR, vgmbM, r
UGC 396, MCG 8-2-10, CGCG 550-9, IRAS 00362+4803
NGC 278
00 52 04.5
+47 33 03
SBb
11.5
10.8
2.1 × 2
cB, pL, R, 2 st 10 nr
UGC 528, MCG 8-2-16, CGCG 550-16, IRAS 00492+4716
NGC 1343
03 37 49.8
+72 34 17
SBb/P
13.5
12.7
2.6 × 1.6
F, vS, iR, gbM, D * v nr
UGC 2792, MCG 12-4-1, CGCG 327-5, 7ZW 8, IRAS 03324+7224
IC 10
00 20 24.5
+59 17 33
IBm
11.8
10.4
6.4 × 5.3
F * inv in eF, vL neb
UGC 192, MCG 10-1-1, IRAS 00177+5900
«Strasbourg-ESO Catalogue of Galactic Planetary Nebulae» Acker et al., 1992 [141]
PNG
RA
Dec
Main ID
PK
IRAS
Discoverer
Identities
oDiam
["]
rDiam
["]
Dist
[kpc]
Rvel
[km/s]
ExpVel
[km/s]
C* Name
C* Mag
C* SP Type
PN G111.8-02.8
23 26 15
+58 10 55
Hb 12
111-02.1
23239+5754
HUBBLE 1921
ARO 381, VV 286, VV'576
1.
0.7
-5.0 ± 2.3
14. (O-III)
AG82 452
B: 14.5, V: 13.8
WN 7?
PN G112.5-00.1
23 24 21
+60 56 59
KjPn 8
KAZARYAN et al 1971
K 3-89
3.8
-40.6 ± 10.0
5. (O-III), 7.5 (N-II)
PN G112.9-10.2
23 47 45
+51 23 58
A 84
112-10.1
23452+5107
ABELL 1955
A55 70, ARO 115, VV' 581
120.
16. (O-III), 25. (N-II)
AG82 458, CSI +51 -23452, UBV 20433
U: 17.67, B: 18.67, V: 18.49
PN G113.6-06.9
23 46 46
+54 44 40
A 83
113-06.1
ABELL 1955
A55 69, ARO 385, VV' 580
47.
AG82 457
B: >21.
PN G114.0-04.6
23 45 47
+57 04 01
A 82
114-04.1
23433+5646
ABELL 1955
A55 68, ARO 114, VV' 579
94.
81.
-30.5 ± 3.3
25. (O-III), 32.5 (N-II)
AG82 456
B: 16.20, V: 14.92
PN G118.0-08.6
00 18 41
+53 52 39
Vy 1- 1
118-08.1
00160+5335
VYSSOTSKY 1942
ARO 90, VV 2, VV' 4
5.2
6.
-50.4 ± 3.8
10.0 (O-III)
AG82 3
B: 13.94, V: 14.19
PN G119.3+00.3
00 19 59
+62 59 01
BV 5-1
119+00.1
00172+6242
BOHM-VITENSE 1956
ARO 199
18. :
-72.2 ± 4.2
11.0 (N-II)
V: 22.3
PN G119.6-06.7
00 28 15
+55 57 55
Hu 1-1
119-06.1
00255+5541
HUMASON 1921
ARO 18, VV 3, VV' 5
5.
10.
-53.7 ± 3.0
15.5 (O-III), 27.5 (N-II)
AG82 4
V: 19.15
A ?
PN G120.2-05.3
00 31 54
+57 22 33
Sh 2-176
SABBADIN et al 1977
720.
-37.
19. (O-III)
AG82 5
B: 18.1
PN G121.6+03.5
00 38 54
+66 23 41
We 1- 1
00359+6607
WEINBERGER 1977
19.
-77.3 ± 5.0
AG82 6
B: >21.
PN G121.6-00.0
00 40 22
+62 51 17
BV 5-2
121+00.1
00374+6234
BOHM-VITENSE 1956
ARO 201, Sh 2-179
40. :
-39.0 ± 25.0
PN G122.1-04.9
00 45 36
+57 57 24
A 2
122-04.1
00426+5741
ABELL 1955
A55 2, ARO 202, VV' 6
36.
-41.8 ± 3.1
34. (O-III)
AG82 7
B: 20.07
PN G124.0+10.7
01 07 08
+73 33 24
EGB 1
ELLIS et al 1984
ELO 103+73, HaWe 1
270.
AG82 9bis, EQ 0103 +73
U: 15.37, B: 16.42, V: 16.45
PN G124.3-07.7
01 00 54
+55 03 39
WeSb 1
WEINBERGER et al 1981
150.
PN G126.3+02.9
01 24 59
+65 38 37
K 3-90
01215+6523
KOHOUTEK 1972
9.
10.
-49.4 ± 5.0
15. (O-III)
PN G128.0-04.1
01 30 40
+58 22 01
Simeiz 22
SHARPLESS 1959
Sh 2-188
340.
-26. ± 10.
40. (O-III)
U: 16.43, B: 17.43, V: 17.44
PN G129.2-02.0
01 42 38
+60 10 07
We 2- 5
WEINBERGER 1977
195.
PN G129.5+04.5
01 58 36
+66 34 04
K 3-91
KOHOUTEK 1972
10.
V: >20.5
PN G130.2+01.3
01 57 36
+63 19 19
IC 1747
130+01.1
01539+6304
FLEMING 1905
ARO 91, VV 7, VV' 10
13.
2.5
-66.5 ± 3.3
27.5 (O-III)
AG82 12, CSI +63-01538 0, EM* CDS 226, EQ 0154 +630, HD 11758
B: 15.8, V: 15.4
O VI, WC 4
PN G130.4+03.1
02 03 40
+64 57 36
K 3-92
02000+6443
KOHOUTEK 1972
12.2
-61.7 ± 2.8
5.0 (O-III), 7.5 (N-II)
V: 20.6
PN G131.4-05.4
01 53 02
+56 24 22
BV 5-3
131-05.1
BOHM-VITENSE 1956
ARO 203
24. :
-59.0 ± 25.0
B: 18.
PN G131.5+02.6
02 12 12
+64 09 05
A 3
131+02.1
ABELL 1955
A55 3, ARO 204, Sh 2-189, VV'12
60.
30. (O-III), 35. (N-II)
AG82 14
B: 18.8
PN G132.4+04.7
02 26 30
+65 47 54
K 3-93
KOHOUTEK 1972
10.
PN G136.1+04.9
02 58 53
+64 29 59
A 6
136+04.1
02545+6417
ABELL 1955
A55 5, ARO 207
186.
190.
AG82 17
B: 19.6
PN G136.3+05.5
03 03 49
+64 53 28
HFG 1
HECKATHORN et al 1982
500.
-26.0 ± 1.0
13. (O-III), 15. (N-II)
AG82 18bis, V664 Cas
B: 13.76, V: 13.38
PN G138.1+04.1
03 11 00
+62 48 04
HDW 2
HARTL et al 1983
HaWe 2
340.
13. (O-III)
B: 12.98, V: 12.61
A
PN G138.8+02.8
03 10 19
+61 19 02
IC 289
138+02.1
03062+6107
HUBBLE 1921
ARO 86, Hb 1, VV 9, VV' 15
35.
2.8 - 4.8
-20.0 ± 4.0
25.5 (O-III)
AG82 19, NSV 1056
B: >15.1, V: >15.9