Blue Snowball (NGC 7662)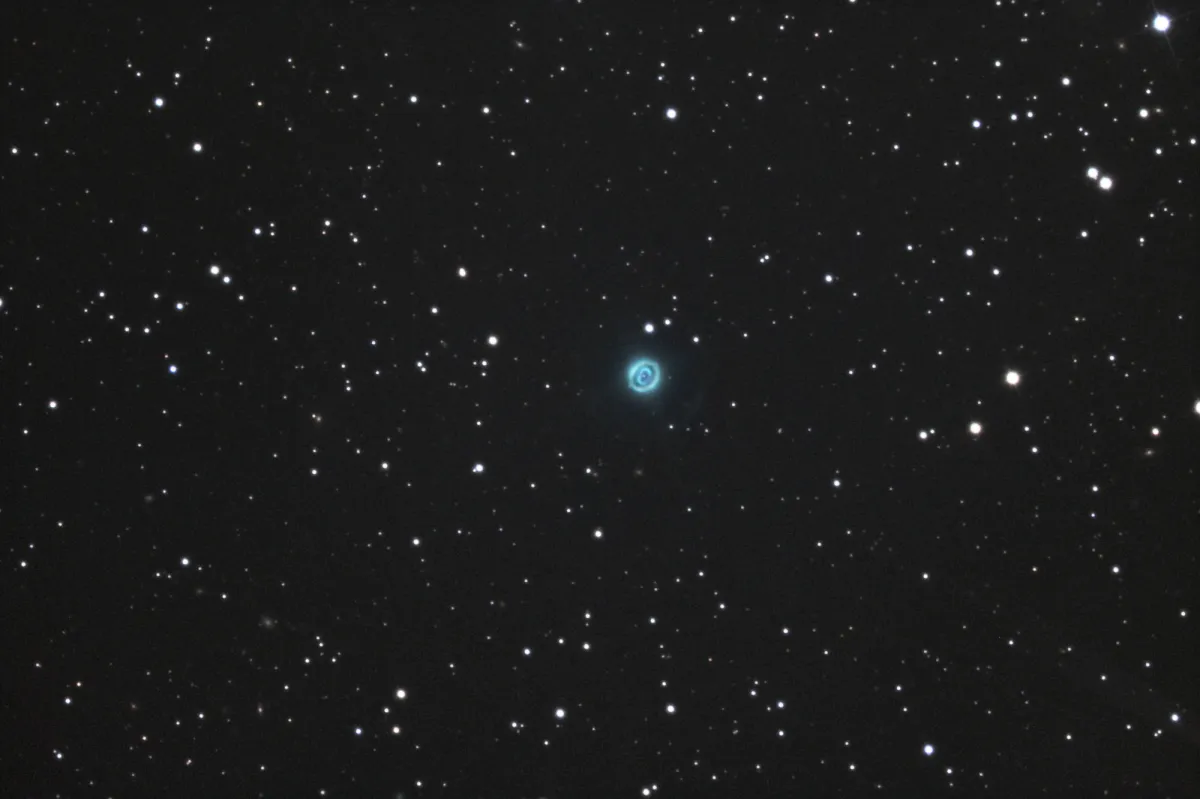 History
This planetary nebula was discovered by William Herschel on 6 October 1784 using his small 7 feet reflector with 6.3 inch aperture. He cataloged it as IV 18 (class IV = planetary nebulae) and described it with «bright, round, a planetary p. well defined disk, 15" diameter with a 7 feet reflector» [463]
Physical Properties
The «Blue Snowball» (NGC 7662) is one of the brightest planetary nebulae and can already be seen in larger binoculars (from 50 mm aperture). Its eponymous blue-green color comes from oxygen excited to glow. The very hot central star in the center of the object is responsible for the glow of the oxygen. Its surface temperature is around 75'000 Kelvin. The high-energy UV radiation emanating from its surface ionizes the oxygen twice (O-III), so that the gas emits light at wavelengths of 5007 and 4959 angstroms, which we perceive as blue-green.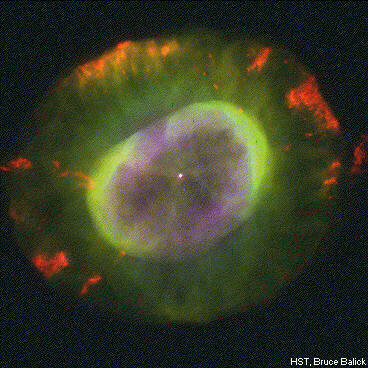 Bruce Balick's color image (Fig. 2) was taken with three different filters. Doubly ionized oxygen (O-III) is shown in green and corresponds to the visual impression. Ionized nitrogen is shown in orange, ionized helium in blue. These emission lines are too faint to be seen visually with amateur telescopes. The shape of a PN is mainly determined by collisions of stellar winds expelled during different periods of activity of the central star and the earlier red giant stage. However, the fine, orange-colored structures on the HST image cannot be explained with the conventional hydrodynamic PN models. It is assumed that these are younger ejections from the central star. The overall structure of the blue snowball is classified in the Vorontsov-Velyaminov classification scheme as type IV+III - ring structure with irreg. Disc - aptly described (see descriptions below).
«Strasbourg-ESO Catalogue of Galactic Planetary Nebulae» Acker et al., 1992 [141]

| | |
| --- | --- |
| Designations | PN G106.5-17.6: NGC 7662, PK 106-17.1, ARO 20, VV 285, VV' 575 |
| Right Ascension (J2000.0) | 23h 25m 54s |
| Declination (J2000.0) | +42° 32' 06" |
| Dimensions | 17." (optical), 26." (radio) |
| Distance | 0.98 kpc |
| Radial Velocity | -13.2 km/s ± 0.7 km/s |
| Expansion Velocity | 27.5 km/s (O-III), 29. km/s (N-II) |
| C-Star Designations | AG +42 2277, AG82 451, BD +41 4773, GCRV 14695, HD 220733, NSV 14555, PLX 5676 |
| C-Star Magnitude | 13.6 mag (B filter), 13.2 mag (V filter) |
| Discoverer | HERSCHEL 1784 |
How to find the Snowball
The blue snowball is in the constellation Andromeda on the connecting line between the stars ι and ο Andromedae, about a third closer to ι. It can be observed well in the months of July to February.