Twin Quasar (QSO 0957+561A/B)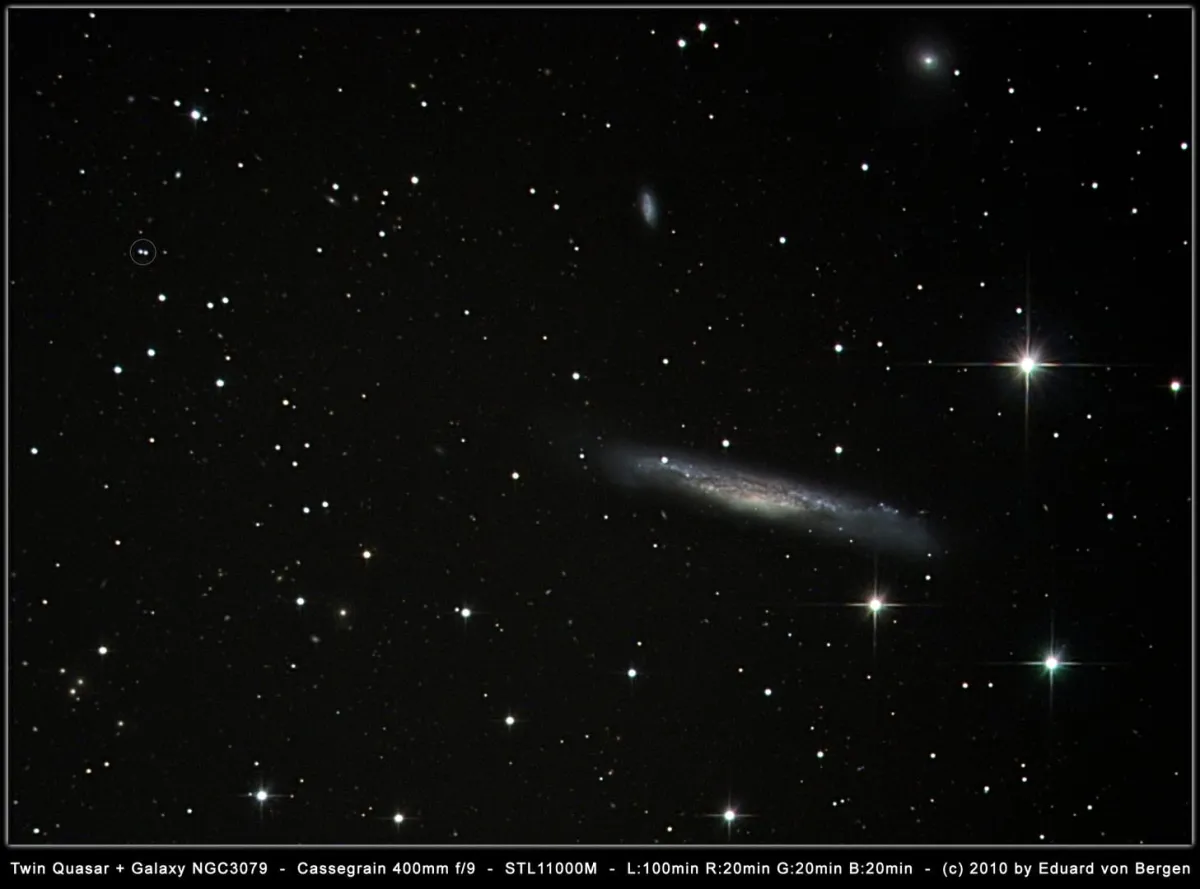 Object Description
The two quasars QSO 0957+561A/B, also known under the name «Twin Quasar» were first discovered in 1979 using a radio telescope and then also on photographic plates. The twins quickly attracted the attention of professional astronomers, as they are one of the first visible proofs of a gravitational deflection of light, as described by Albert Einstein in his 1915 general theory of relativity.
We see the quasar twice because its light is deflected by the gravitational field of a large, faint foreground galaxy (not NGC 3079!) on its way to Earth in such a way that that of the southern component B makes a small detour of about one light year. The lensing galaxy is closer to the southern component B. If this galaxy were not present, we would only see a single image of the quasar, weaker by about half a magnitude.
The two single images A and B are separated by six arc seconds. The apparent brightness varies around 0.1 mag per month and around 16.4 mag. The highlight of the matter: Due to the different light paths that the two images cover to us, fluctuations in brightness of the northern component A reach us about a year before those of the southern component B.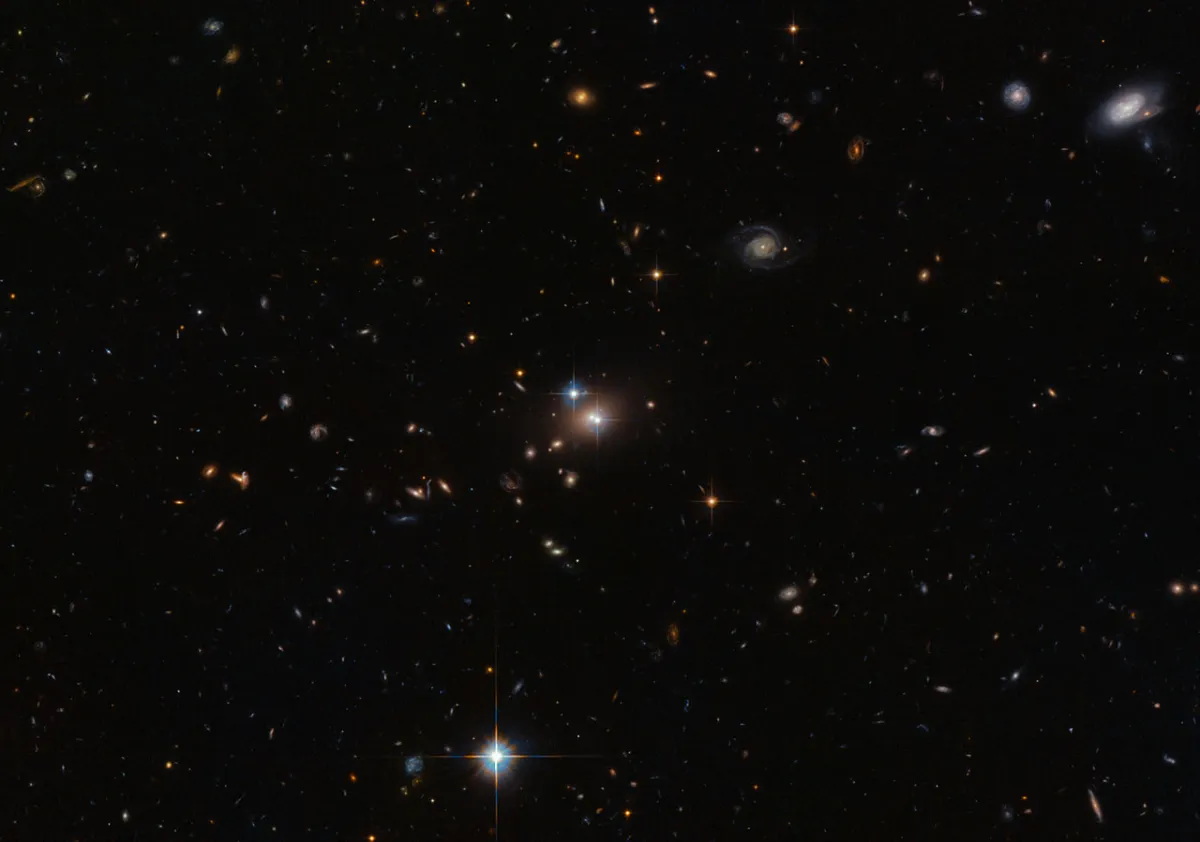 At a distance of around five billion light-years, the quasar is by far the most distant thing visible with an amateur telescope with a mirror diameter of up to 500 mm. The light left the quasars before our solar system and the earth (about 4.6 billion years ago) formed! [99]

Quasar: QSO 0957+561A/B: Twin Quasar
R.A.  : 10h 01m 21s
Dec.  : +55° 53' 54"
v Mag.: 16.4-17m
Sep.  : 6"
z     : 1.390

Further infos at CDS: QSO 0957+561A
«Catalogue of Principal Galaxies» Paturel et al., 1989 [144]

| PGC | RA | Dec | mType | Dim | Btot | HRV | PA | Names |
| --- | --- | --- | --- | --- | --- | --- | --- | --- |
| PGC 28974 | 10 00 51.9 | +55 37 13 | LB | 1.2 x 1.1 | 14.0 | 1216 | | NGC 3073, UGC 5374, MCG 9-17-7, MK 131, CGCG 266-6, CGCG 265-54 |
| PGC 28990 | 10 01 05.2 | +55 44 33 | | .8 x .3 | 14.7 | 3952 | | MCG 9-17-9, CGCG 266-7, CGCG 265-55 |
| PGC 29050 | 10 01 58.2 | +55 40 42 | SB | 8.1 x 1.3 | 11.5 | 1124 | 165 | NGC 3079, UGC 5387, MCG 9-17-10, CGCG 266-8, IRAS 9585+5555 |
Signpost to the Twin Quasar
The objects Q0957+561A and B, known as twin quasar, are located in Ursa Major. Finding it is made much easier by the nearby and quite prominent foreground galaxy NGC 3079 (it has nothing to do with gravitational lensing). This is located at RA 10h 02.0m and Dec +55° 41' (A2000.0). The apparent magnitude is 11.2 mag, the size 7.6' x 1.7'. It is a Sb spiral seen almost from the edge. In the 50 cm telescope it appears quite bright. The twin quasar is only 10 arc minutes north of this beautiful galaxy
To identify the quasar from the surrounding stars, use the 30 arc minutes section from the STScI Digitized Sky Survey [160]